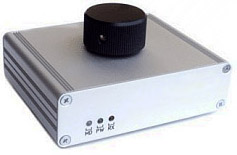 LC22 unit was designed for regulation of illumination in microscopy, but its use is in many other applications where the high homogeneity and the temporal stability of light is required. As the illumination is driven continuously, without PWM, this control unit  is ideal solution also for lighters for fast and high-resoultion cameras with rolling shutter.
Illumination intensity is regulated manually using the rotating wheel installed on the top of  the robust alluminium case. Another way of control is to use the USB interface and PC. The case is equipped with rubber feets to ensure safe position on the desktop.
Basic features and specifications
Supply voltage: 12-24V DC
LED power: 5, 10, 20 W (coded by resistor on the LED connector)
Current control range:  0-1000 mA
Regulation step: 0.25 mA
DC-DC converter + continuous current controller = high accuracy and efficiency
Suitable for high-speed cameras and cameras with a "rolling shutter" electronic shutter
Handled with an optical incremental encoder ensures its longevity and durability
USB 2.0 interface for control from a PC – virtual COM port is identified in system for the easiest possible way of device integration into existing applications
Dimensions: 105 x 90 x 40 mm
Color options – passivated aluminum with black engraved labels, anodized black with white engraved label

As personal communication and individual approach to our customers needs is one of the basic rules of our company, product qotation is on your request. Please do not hesitate and write on  development@lumilogic.cz and we will answer all your questions and provide you with the latest news.