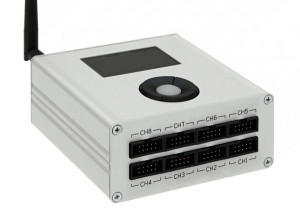 The data logger is designed to handle Mitutoyo and Mahr gauges in control procedure without any computer. It is equipped with a well-readable, backlit, black and white, graphic LCD display. The device stores controlled part definitions and control procedure. During measurement procedure it is permanently graphically indicated which parameter at which part is currently measured, given tolerance limits and which gauge has to be used. Operator can immediately check whether the measured value is in tolerance limits, eventually the measurement can be repeated. The navigation table is displayed for orientation and navigation in the control plan. The completed measurement can be sent to the PC via Blue-Tooth interface directly, or can be stored in the internal nonvolatile memory of the DUMX4/8-TE.
The basic user application DUMX Terminal Manager is provided with DUMX4/8-TE. DUMX Terminal Manager offer all the control and setup functions, measured data visualization, saving and exporting to the CSV (MS Excel) format or the Q-DAS ASCII Transfer Format.
The DUMX4/8-TE can be used also in multiplexer mode which offers the standard multiplexer functionality compatible with other multiplexers.
Specifications
Two operating modes of the terminal / multiplexer
4 or 8 input channels for DIGIMATIC (Mitutoyo, Mahr) instruments
Memory capacity to store 7 operator identifications, 7 products (control procedures), 20 complete measured samples (tables of values ​​for 16 parameters and 8 samples)
Industrial Bluetooth interface for communication with the computer in TERMINAL mode with a range of 100m in industrial halls
Standard USB interface for communication with the computer in Multiplexer mode
Well-readable, backlit, black and white, graphic LCD display
Cross-controller with micro switch
A foot switch to control input data from all input channels
Engraved aluminum box with heavy-duty labels
A completely independent RS232/USB converter for Multiplexer Mode
In multiplexer mode, data and command-compatible multiplexers with Mitutoyo
Export data to the CSV  (MS Excel) format or the  Q-DAS ASCII Transfer Format
Mains supply 230V power line through a USB adapter (in TERMINAL mode) or from a computer USB socket (Multiplexer mode)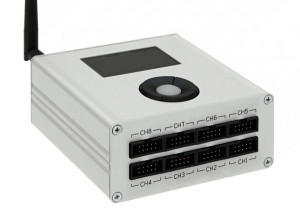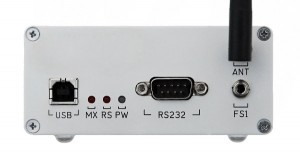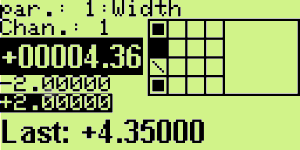 As personal communication and individual approach to our customers needs is one of the basic rules of our company, product qotation is on your request. Please do not hesitate and write on  development@lumilogic.cz and we will answer all your questions and provide you with the latest news.