Simple CMOS image sensor based digital camera with USB2.0 HighSpeed PC interface designed for laboratory and industrial vision systems. Insulated inputs and outputs allow precise t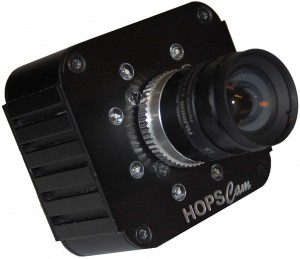 ime synchronization of image acquisition and measurement uncertainty caused by PC operating system services delay is minimized. Camera is equipped with device drivers that simplifies its integration into existing software based on C, C++ or managed environment .NET Framework (C#). Interface for MATLAB is also available.
Available also in binocular 3D version.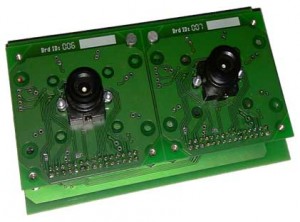 3D binocular camera was developed in close cooperation with Laboratory of Videometry, Department of Measurement, FEE CTU Prague.
Technical Parameters:
CMOS image sensor 1/3″ with resolution of 752×480 pixel (1, 3, 5 Mpix available)

global shutter
close IR spectra higher sensitivity
dynamic range enhancement
B/W or Color version available

AUTO/MANUAL exposition and signal gain control
ADC resolution 8-bit
Built-in simple circular illuminator
Two insulated digital configurable inputs

image acquisition synchronization
inputs state added to each frame / frame-line of image data
direct read from user software

Two insulated digital configurable outputs

external illuminator control
direct write from user software

Frame rate max. 54 fps
RAW image data transfer (no compression artifacts)
USB2.0 HighSpeed interface
Power supply from USB
Dimensions: 71 x 66 x 36 mm (without lens) or OEM version 60 x 60 x 36 mm
CS lens mount compatible
Possible customization of camera functions and drivers on request
Download product flyer (only in Czech Language)
As personal communication and individual approach to our customers is one of the basic rules of our company, product availability and prices are on your request. Please do not hesitate and write on  development@lumilogic.cz and we will answer all your questions and provide you with the latest news.