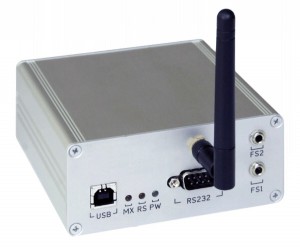 DUMX multiplexers are multi-channel transmitters for connecting multiple Mitutoyou (Mahr) gauges to computer.  In addition to standard USB2.0 interface the DUMX4-BT is equipped also with an industrial Bluetooth interface and it is appropriate for applications where the distance between the measurement workplace and PC is longer than allowed distance for USB interfacing. Gauges data are accessible via a virtual COM port what allows the use of multiple application programs from variety of software manufacturers for data processing. Multiplexer allow connection of four gauges equipped with Mitutoyo Digimatic interface.  All channels can be controlled together by one footswitch. The multiplexer is additionally equipped with another completely separated RS232/USB converter and second footswitch input for arbitrary application.
Electronics  is installed into a massive anodized aluminum box. Front and rear panel are engraved. The box is equipped with rubber feet to ensure safe position on the desktop.
Specifications
4 input channels for DIGIMATIC interface instrument (Mitutoyo, Mahr)
Data and command compatible with Mitutoyo multiplexers
Standard USB 2.0 full-speed interface for communication with computer
Alternative Industrial Bluetooth interface for communication with a computer. The range is 100m in industrial halls.
2x foot switch to initiate the measurement from input channels
A completely independent RS232/USB converter for general use
Second foot switch for general use
Engraved aluminum box with heavy-duty labels
Powered from 5V USB adapter or from PC USB socket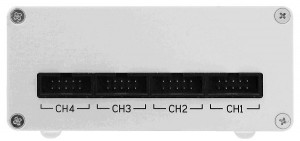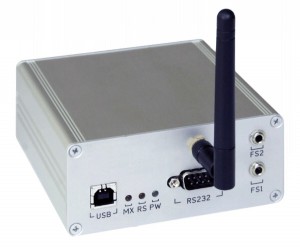 As personal communication and individual approach to our customers needs is one of the basic rules of our company, product qotation is on your request. Please do not hesitate and write on  development@lumilogic.cz and we will answer all your questions and provide you with the latest news.