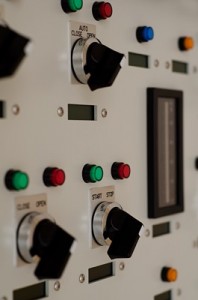 Interactive Operator Training Simulation System MIKEE is intended for training of operating procedures targeted to areas where it is necessary to maximize elimination of mistakes due to the human factor. Mistakes are caused mainly by insufficient training, low operator concentration, communication ambiguity and disturbing elements of environment or higher stress rate in general. Especially in the field of energetics, chemical industry or public transportation such errors can cause priceless damages on lives and property.
MIKEE as MIstaKE Elimination training system is a powerful tool for initial pre-screening, methods and approaches demonstration and final evaluation during education and evaluation process of variety of professionals.
Training system is based on MikeeBox portable demonstration panels connected to PC through USB interface. Panels contain variety of randomly placed controls (switches) and indicators with alpha numerical displays ensuring dynamical labeling of controls packets. LUMILOGIC offers fully customized design of MikeeBoxes to optimally target user needs.
Training scenario consists of sequential changing of controls states ruled by variety options of indicators and events (e.g. sounds). Supplied PC software allows fast and intuitive scenario programming with the use of a simple graphical interface based on virtual MikeeBox. Virtual representation of panel includes all controls and indicators with realistic simulation of their functions and can be used in offline mode (real panel is not physically available) as fully-featured simulation platform. MIKEE allows connection of unrestricted number of panels. Virtual and real panels can be combined into a single real time scenario. During the scenario execution MIKEE allows evaluation of operator's reaction time between individual steps and total scenario time limitation. Individially adjustable periods between steps can be set for better stress simulation.  Among others information about current time, actual step, and success rate are available during the scenario execution in the real time.
Key features and parameters:
Customer design of fully portable MikeeBoxes with various controls (single or multi-pole industrial switches, industrial indicators with programmable function)
Switches packets labeled with LCD (modification of labels possible in scenario)
Modular system with possibility to add new MikeeBoxes
USB 2.0 connection to PC
PC-based software Mikee Trainer Simulation Studio for Windows XP / 7 / 8
Simple scenario programming and edit through real and virtual pannels
Offline mode with virtual panels (no need of real pannels connection)
Unrestricted number of real or virtual MikeeBoxes in a single scenario
Unrestricted number of scenarios
Various scenario options with online success rate monitoring and evaluation
As personal communication and individual approach to our customers needs is one of the key values of our company, product qotation is on your request. Please do not hesitate and write on  development@lumilogic.cz and we will answer all your questions and provide you with the latest news.