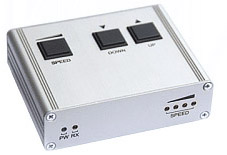 Stepper motor control unit primarily designed for microscope focus control, applicable for many other applications requiring easy stepper motor position control. Motor position is controlled with the use of micro-stepping principle. For precise position control (one micro-step is a fraction of the used native step) mutually shifted sine-waveforms driving the motor windings are used. The number of motor positions is increased by factor of 16 (for standard stepper motor with 200 natural positions per revolution SMD allows 200 x 16 = 3200 positions per revolution).  Position is controlled manually with the use of 3 buttons or from PC through USB port. SMD3200 is installed into a massive anodized aluminum box. The box is equipped with rubber feet to ensure safe position on the desktop.
Basic features and specifications
Designed for two-phase bipolar stepper motors
Supply voltage: 12-24V DC
Coil current: up to 1.5A
Microstepping: 1, 2, 4, 16 times
PWM current control – high efficiency, minimal heat losses on power side
Short circuit protection
2x end limit switch (+5V connected out to the motor connector for using an advanced end limit switches – commonly optical and magnetic switches
USB2.0 interface – virtual COM port is identified in system for the easiest way of software integration
3x button for manual operation – speed and booth direction of movement selection
Movement parameters: top speed, level of acceleration an deceleration, movement coil current and break coil current.
4x predefined movement parameters in nonvolatile EEPROM
4x LED for displaying the selected movement parameters
2x LED status – communication, power on LED
Dimensions: 105 x 90 x 40 mm
Color options – passivated aluminum with black engraved labels, anodized black with white engraved labels

SMD unit can be expanded into a multi-axis system on demand (e.g. for cross-tables controlling, positioning telescopes and cameras, macro photography, but also for control of small motors CNC machine tools). According to the used microcontroller SMD can be custom-created to an individual solution, changing the meaning of the buttons, or automatically create a customizable profile, in which the unit can independently perform the movement.
As personal communication and individual approach to our customers needs is one of the basic rules of our company, product qotation is on your request. Please do not hesitate and write on  development@lumilogic.cz and we will answer all your questions and provide you with the latest news.